Loading passenger selection
Please Wait


Navigator Of The Seas
Ship
Navigator Of The Seas
Overview
Don't just get away. Get more from your cruise on the amped Navigator of the Seas.
The amped Navigator of the Seas delivers a maxed out adventure in just a few short days. Take on record breaking thrills, like the longest waterslide at sea. Soak up bigger, bolder, splashier pool days. Swap going out for going all out with next level nightlife and new dining for every craving. This is your short vacay, turned way, way up. Only on Royal Caribbean.
Activities
iSkate
Watch our skaters let it all out in iSkate, a rule-breaking, no holds barred show that throws choreography out the window and lets them freestyle jump, stunt and thrill their hearts out to hit jams.
Dance Classes
Salsa, hip-hop, swing or ballroom. Learn the latest moves from instructors and bring your newfound skills to your favorite Royal Caribbean dance floor.
All Access Tour
Go behind-the-scenes for a look at ship operations, and see how we bring the Royal Caribbean experience to life. Learn how dishes are prepared and where ingredients are stored. Explore the Engine Control Room and the crew corridor and get an exclusive tour of the Bridge.
FlowRider
The surf's always up on the 40-foot-long FlowRider surf simulator. Grab your board and get ready, 30,000 gallons of rushing awesome are headed your way. Carve like a pro - or just try to stay upright - while friends cheer you on from the stadium seating.
Amplified Pool Deck
Forget what you thought you knew about pool days. On the newly amped up Navigator of the Seas, the pool is overflowing with new ways to spend your day in the sun - literally. We've doubled the pool's surface area to cover the deck with tons of space to lounge, swim, and keep you connected to the water. A new signature bar, The Lime and Coconut, introduces a Caribbean cool vibe across three decks overlooking the poolside action - while the hot tubs have moved up a deck, meaning great ocean views. And with two casual spots to grab burgers and tacos nearby, you'll never have to wander far from your chair, hammock or shady casita.
Royal Escape Room: The Observatorium
There are some puzzles you solve. And some you escape. Work together with your team to uncover hidden clues, solve mind bending teasers, and work out bewildering puzzles. The timer's set to 60 minutes. Have you and your team got what it takes to beat the clock in the latest Royal Caribbean Escape Room challenge?
More Choices:
Shopping
Scrapbooking
Game Shows
Outdoor Movie Night
Arcade
Theme Nights

Pool Parties
Casino
Folding Artistry
The Perfect Storm
Learn A Language
Culinary Classes
Art Collection
Wine Tasting
Ice Skating
Jewelry Making
Salsa Dancing
Cupcake Classes
Bars
Schooner Bar
Wrap up your night at Schooner Bar, where perfectly mixed cocktails and live entertainment come together in a warm-lit nautical-themed lounge. Cozy up in a seat under the mast, by the portholes, or right by the gleaming grand piano. The sing-along's about to being.
Playmakers Bar & Arcade
With a menu of game-day favorites and icy-cold draughts on tap, anything you order at Playmakers Sports Bar & Arcade is a winner. And while you're working on a signature Playmakers Burger or the five-scoop Touchdown Sundae, you can catch your home team live on dozens of screens or face off against your friends in the arcade.
English Pub
If you're looking to grab a pint, this fleetwide favorite is the spot. Pop-up musical performances keep the vibe here is as lively as London, and the pub's impressive drink menu offers a sweeping selection of beers that range from ales to lagers, with UK-themed cocktails and an inspired collection of spirits.
R Bar
Swanky, sophisticated, and suffused with retro style, R Bar serves up classic cocktails garnished with vintage vibes. Whether your drink of choice is a dry gin martini, an expertly mixed old fashioned, or the perfect gin and tonic, you'll find plenty to savor here.
Specialty Dining
Chef's Table
Welcome to Chef's Table, the most exclusive and elevated dining experience on our fleet. Join an intimate group of fellow foodies on a private epicurean journey led by the ship's Chef de Cuisine. You'll sit down to a white tablecloth dinner spotlighting five exquisite courses that range from scallop carpaccio with yuzu vinaigrette, to grilled filet mignon served with truffle potato puree - each expertly paired with the perfect wine to highlight every flavor on the menu.
Izumi
From delicious sushi rolls to fresh sashimi and nigiri, Izumi serves up an exotic Asian-inspired dining experience. Savor izakaya-style appetizers and rolls that range from classic to imaginative. No matter what you order, you're in for a far out, Far East feast filled with incredible flavors from Tohoku to Tokyo.
Chops Grille
For more than a decade, the chefs of Chops Grille have proudly presented quality, hand cut steaks at this hallmark Royal Caribbean restaurant. Now, they give you a fresh twist on a favorite, with a revamped menu that brings contemporary flair to traditional steakhouse offerings. Most intriguing: our exceptional prime meat. This prime beef is joined by Maine lobster, grilled branzino and other succulent dishes paired with addictive sides and irresistible desserts.
Jamie's Italian by Jamie Oliver
At Jamie's Italian by Jamie Oliver, sit down to Tuscan-inspired cuisine crafted by one of Britain's most famous chefs. Seasonal ingredients meet authentic recipes in family-style dishes that range from homemade pastas and classic Italian entrees, to contemporary creations infused with rustic influences.
Hooked Seafood
If you want to snag a real taste of New England-style seafood, Hooked Seafood is the spot. Find your favorite coastal flavors, like crispy golden Maryland crab cakes, melt-in-your-mouth Maine Lobster rolls or just-shucked oysters and other raw bar favorites. Don't miss the sweet treats that beg to be savored to feel the taste of summer.
Starbucks
Enjoy all your Starbucks favorites - from Macchiatos to Frappuccinos, plus an extensive menu of drinks and pastries whenever the mood strikes you. Whatever you're craving, you won't have to go a single day without your morning iced coffee or your mid-afternoon flat white.
Johnny Rockets Express
All your favorite diner classics are just a skip and a sock hop away from the pool deck at Johnny Rockets Express. Burgers, fries, handspun milkshakes - and even spiked shakes for those who want something a bit more spirited.
Shows
Ice Skatin Shows
Come for the g-force spins. Stay for the spectacular ice dancing. The Studio B ice rink presents dramatic ice shows starring a cast of professional skaters from around the world. Enjoy dazzling costumes and choreography filled with amazing spins, leaps and lifts.
Ballroom Fever
Every step tells a story in this extraordinary celebration of ballroom dance. Rediscover romance with the tango, jump for joy with the jive, waltz your way to zen and feel the sultry heat of the rumba as Ballroom Fever takes over.
Showgirl
When it comes to onboard entertainment, our original production shows shine the spotlight on awe-inspiring. The brand new spectacular Showgirl is no exception. It's a thrilling multi-sensory experience that uses bar-raising choreography and cutting-edge lighting and video effects to pay homage to the iconic siren of the stage - the showgirl - across the decades.
Original Productions
We've got the venues and we know how to use them. Every sailing features original productions you can only see onboard. Amazing vocalists and dancers deliver rousing performances wrapped up in stunning sets and transcendent multimedia productions. Whether it's a jazz excursion, techno-inspired cabaret or something beyond, prepare to be amazed.
Entertainment
Pub Performances
Pop across the pond and partake in the age-old tradition of English pub life. Throw back a pint or two of imported brews and request your favorite jams, unplugged.
Live Bands
It's a great way to start an evening- or a mellow way to wind down the night. Our live music venues feature world-class musicians performing across the fleet nightly. Follow your musical tastes or explore a new sound, from cover bands and acoustic to Latin and live jazz. Enjoy a different live concert every night.
Art Auctions
Calling all art aficionados - get in on the action at the boldest art auction at sea. The excitement begins with a complimentary champagne toast at the Art Gallery, where you'll get to browse pieces from a collection expertly curated by the Park West Gallery Art team. Then soak up the electricity in the room as the bidding ramps up to a fast and furious frenzy. Whether you're a seasoned collector or a curious first-timer, our onboard art auctions are a great way to add some thrills to your day and take home a masterpiece you'll treasure forever.
Sip, Tour, Brunch
Catch a glimpse of the magic that happens in the kitchen on an exclusive behind-the-scenes tour of the galley with the Chef. Then take your taste buds on an exceptional brunch in a dining room, where you can indulge in spectacular eats paired with unlimited sparkling wine.
More Choices:
Guest Lectures
Library & Card Room
Captain's Welcome Aboard Reception
Night Life
Lounges
The Lime and Coconut
The search for your favorite island bar is over. The Lime and Coconut turns the vacay vibes way, way up with DJs, live music and two bars serving all your favorite poolside cocktails - including the signature Lime & Coconut. And when the sun goes down, this pool bar just might be the hottest spot onboard.
Diamond Club
Royal Caribbean created the exclusive Diamond Club lounge to thank our valued Diamond, Diamond Plus and Pinnacle Club Crown & Anchor Society members for their continued loyalty. From concierge access to complimentary continental breakfast, and even complimentary cocktails at happy hour, our most loyal guests enjoy special perks in a space reserved just for them.
Suite Lounge
Welcome to the most elevated spot for indulging in your favorite eats and libations. Reserved exclusively for guests of Grand Suite-level accommodations and above, the Suite Lounge serves complimentary continental breakfast and evening drinks. From croissants to your favorite drink, we've got your cravings covered.
Viking Crown Lounge
A fixture on nearly every cruise ship in the Royal Caribbean fleet and a true architectural wonder, the iconic Viking Crown Lounge is the ultimate spot to soak up panoramic views while you sip your favorite cocktails. Catch the sunset through its floor-to-ceiling windows, then stick around as the space comes alive with the sounds of live entertainers, flashing strobe lights, and plenty of hip-swinging action on the dance floor.
The Bamboo Room
Throwback vibes and crazy good cocktails will whisk you away at The Bamboo Room - a Polynesian-themed watering hole that packs a punch. The expert bartenders at this tiki-chic lounge keep your tastes in mind as they sling spirited sips with exotic fruits and spices. Sit back, relax, and complement each cocktail with delicious shareable appetizers.
Kids & Teens
Adventure Ocean

When the kids are happy, parents are happy. And our award-winning Adventure Ocean Youth Program is designed with that in mind. Tiny travelers ages 3-5 will have an education blast in the Aquanauts group. The Explorers program keeps 6-8 year olds entertained with activities like themed parties and more. And learning is a thrillfest for 9-11 year olds in the Voyagers group.
Babies and Tots Programs
Cruising with your baby was never easier. Our Royal Babies & Tots program offers nursery drop-off sessions filled with age-appropriate activities and toys. All programs are hosted by our trained youth staff.
Riptide
When the current starts racing, watch out. You're about to get swept up by the only headfirst mat racer waterslide at sea - Riptide. You'll speed through a twisting, turning, exhilarating plunge to the bottom. But the ultimate rush comes when you hurtle through a translucent tube over the side of the ship for a thrilling ocean view.
Laser Tag: Battle for Planet Z
Two forces are facing off and you're about to be recruited. Whether you join the remnant of a robot civilization, or the alien scouting party looking for refuge from a meganova, only one force can take control in this glow-in-the-dark laser tag faceoff. Will your team be the one to claim the last planet for light years around? Take aim and find out in Battle for Planet Z.
The Blaster
Get ready to chart a thrill-filled course for adventure on the longest waterslide at sea - The Blaster aqua coaster. Team up on a tandem tube as five waterjet blasters propel you along more than 800 feet of dips, drops and straightaways. But the tides aren't the only thing rushing. In the final stretch, you'll hurtle through an open-air chute - the longest stretch of slide ever suspended over water.
Spa and Fitness
Spa & Fitness Center
Emerge renewed, relaxed and rejuvenated at the Vitality Spa. Professional spa products from acclaimed brands such as Elemis, bliss, La Therapie and Ionithermie bring the most advanced services to the sea. Massages, wraps, facials and acupuncture, or choose medi-spa treatments to smooth wrinkles, lift and tone. A more brilliant smile is just a tooth whitening away, while a salon completes the perfect look with hair and nail services.
To Dry For
After a full day of sea, salt and sun, pop in for a quick beauty fix. The new To Dry For blow dry bar has you covered with blowouts and hairstyling to get you glammed up and looking amazing. All in the time it takes to enjoy a pour of bubbly, so you can get your night out at sea started early.
Fitness Classes
Start a healthy new habit or keep your fitness routine on track. VitalitySM Fitness Center has an array of the most popular training classes including yoga, Pilates, spinning, sculpting and more. Trained instructors make it easy for everyone to have a great time and get fit. Fee applies for some classes.
Table Tennis
It's a paddle battle. Get ready for a table tennis tourney unlike any other. Come solo or pair up for a back-and-forth battle at sea.
Solarium
Check your watch: It's me time. Discover the Solarium, a relaxing indoor-outdoor retreat just for our adult guests. Perfectly positioned at the front of every Royal Caribbean ship, the crystal canopy area presents fantastic views and stays warm while you enjoy swimming pools, whirlpools and lounge area, as well as cascading lagoons on select ships.
More Choices:
Whirlpools
Sports Court
Mini Golf
Rock Climbing Wall
Included Dining
Windjammer
The Windjammer is your go-to restaurant for tantalizing global flavors served complimentary. Like just-pressed paninis packed with all your favorite meats and cheeses. Flaky pastries fresh from the oven and omelets any way you like them. And hearty mains that run the gamut from crispy buttermilk fried chicken to Vietnamese braised Ho Chi Minh pork.
El Loco Fresh
Give your taste buds something to go wild over. El Loco Fresh serves up Mexican fare that's insanely delicious. With classic mole sauce and tangy salsa verde topping beef burritos, carnitas and more, it's a fiesta of flavor from south of the border. The craziest thing about it is just how good it is.
Room Service
Want to savor a meal in the comfort of your stateroom? Order delicious in-room dining any time - day or night. Tuck into breakfast in bed with a fresh omelet or a steaming stack of pancakes. Or enjoy an intimate date night in after a long day of adventure onboard and ashore. Room service makes it easy to treat your taste buds without having to set foot outside your door.
Cafe Promenade
When it comes to quick and easy come-and-go eats, there's no better place than Cafe Promenade. This casual, complimentary hotspot bustles 24 hours a day, so you can drop by any time - whether it's for a steaming cup of coffee and a warm glazed cinnamon bun in the morning, or late-night bites like fried artichoke, spicy marinated cheese, and savory meatballs from behind the counter after working up an appetite on the dance floor.
Main Dining Room
In the Main Dining Room, you can experience flavors that take you from Jamaica to Jaipur, a rotating menu of delicious dishes always offering something unexpected. A multi-level restaurant that in the morning is the perfect spot to enjoy a hearty brunch paired with refreshing mimosas, at dinnertime transforms into a world class dining experience with a menu that invites you to taste your way around the world course by course.
Maiden Voyage: December 2002
Refurbished: Feb 2014
Guest Capacity: 3,114 (double occupancy)
Crew Capacity: 1,213
Tonnage: 138,279
Length: 1,020 ft.
Width: 157.5 ft.
Draft: 28 ft.
Cruising Speed: 22 knots
Registry: Bahamas
Please select the deck plan you will like to see below
Deck Fifteen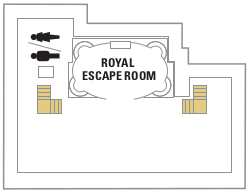 Vendor
Royal Caribbean International
General
Royal Caribbean is an award-winning global cruise line with a 45-year legacy of innovation and excellence in the cruise industry. It has redefined cruising with exciting onboard activities such as rock-climbing walls, ice-skating rinks, zip lines, bumper cars, the signature FlowRider surf simulator and exclusive skydiving thrills of RipCord by iFLY. Royal Caribbean was the first to bring the best of Broadway to the high seas, staging full-length productions of hit musicals like MAMMA MIA!, Cats and We Will Rock You. The world-class entertainment program includes dazzling only-on-Royal stage, ice, aerial, dive and multimedia shows, plus dance clubs, bars and lounges that never charge a cover. The newest ships in the fleet - Oasis Class and Quantum Class - are equipped with advanced technology, with the fastest Internet at sea, and the widest variety of accommodations, from single rooms with a balcony, to family-connected staterooms and luxurious two-story lofts. Royal Caribbean International is redefining family and adventure travel with its newest ship, Symphony of the Seas. Bringing to life every family's vacation dreams, the ship is a playground of thrill and chill experiences carefully designed with guests of all ages in mind. Families can go head to head in a glow-in-the-dark laser tag adventure, take the plunge down the tallest slide at sea, or soak up some sun after getting drenched on the ship's epic waterslides and surf simulators, discovering exactly how Symphony of the Seas is the new sound of adventure for the whole family. The Royal Amplified program is set to reveal multimillion-dollar upgrades, including Sky Pad, Battle for Planet Z, a glow-in-the-dark laser tag experience; The Perfect Storm trio of waterslides and a new Escape Room: The Observatorium challenge, where competitors can solve a series of high-tech riddles to unravel a mystery. Not to mention the addition of new dining venues, from Fish and Ships - a seaside seafood spot with freshly battered fish and chips and other guest favorites - to Playmakers Sports Bar & Arcade, Izumi Hibachi and Sushi and Sugar Beach. Scheduled for completion in fall 2019, the new Perfect Day at CocoCay will offer endless discoveries and shareable moments among seven distinctive island experiences to deliver the ultimate family destination in the Caribbean with the perfect combination of thrills and chills for everyone. Combined with personalized, attentive service, Royal Caribbean is committed to delivering the best vacation experience to its guests. And for the last 12 years, it has been honored as both the best cruise line in the Caribbean and best cruise line overall by the readers of Travel Weekly.