Loading passenger selection
Please Wait


Freedom Of The Seas
Overview
The Amplified Freedom of the Seas is as wow-worthy as the destinations it sails to.
Top-rated coasts. Bow-to-stern boasts. The best of both worlds combine for an all-in-one adventure on the Amplified Freedom of the Seas. Wherever you choose to wander, you'll find plenty of unparalleled thrills onboard in between adventures ashore. Like adrenaline-pumping slides and rides right on deck. A new pool scene designed to level up your time in the sun. And fresh, authentic flavors that will satisfy any craving.
Kids & Teens
Adventure Ocean
When the kids are happy, parents are happy. And our award-winning Adventure Ocean Youth Program is designed with that in mind. Tiny travelers ages 3-5 will have an education blast in the Aquanauts group. The Explorers program keeps 6-8 year olds entertained with activities like themed parties and more. And learning is a thrillfest for 9-11 year olds in the Voyagers group.
Babies and Tots Programs
Cruising with your baby was never easier. Our Royal Babies & Tots program offers nursery drop-off sessions filled with age-appropriate activities and toys. All programs are hosted by our trained youth staff.
Teen Spaces
As a teen, the best part of being onboard is having the freedom to choose how you spend your time between family time. Now, 13 to 17-year-olds get an exclusive new space that's all their own. Just beyond the secret speakeasy entrance, there's a gaming lounge where it's always game on. Music to jam out or hang out to. Movies, and plenty of comfortable places to kick back with new friends. Plus an outdoor patio perfect for lounging beneath the sun or stars.
Laser Tag: Battle for the Crystal City
Eons in the future, Earth is an unforgiving place. The sun has burned out, casting the solar system into an endless winter night. Mankind long since evacuated and two lifeforms remain in the frozen wasteland - the Yetis, mountain beasts who evolved into highly intelligent beings. And the Snowshifters, mysterious creatures once able to assume any form. After millennia without light, both clans are on the brink of extinction. Unless one can claim a mythical ice city and its sustaining innerlight in the latest glow-in-the-dark laser tag faceoff: Clash for the Crystal City.
Splashaway Bay
Pint-sized cruisers will find gallons of fun at Splashaway Bay aqua park. This bigger, better water adventure features colorful waterslides, water cannons, fountains, pools and whirlpools for tots to tweens (and their supervising parents). And keep your eye on the drench bucket. You'll want to be there when it tips!
Specialty Dining
Chef's Table
Welcome to Chef's Table, the most exclusive and elevated dining experience on our fleet. Join an intimate group of fellow foodies on a private epicurean journey led by the ship's Chef de Cuisine. You'll sit down to a white tablecloth dinner spotlighting five exquisite courses that range from scallop carpaccio with yuzu vinaigrette, to grilled filet mignon served with truffle potato puree - each expertly paired with the perfect wine to highlight every flavor on the menu.
Giovanni's Italian Kitchen
Sunday supper is served every day at Giovanni's Italian Kitchen. The menu highlights Old-World classics, including veal meatballs in sauce like made in Romana, Pappardelle with rich radicchio cream or hand-tossed pizzas, delivered straight from the oven. And ask a sommelier on staff to suggest the perfect pairing from a wine list that ranges from Sangiovese to Super Tuscan.
Johnny Rockets
Johnny Rockets serves up burgers, shakes, fries and fun in a cool retro atmosphere. Since 1986, this diner's focus is on all American fare including fresh, never frozen certified angus beef burgers, crispy fries, classic sandwiches and indulgent hand-spun shakes and malts. Join the fun onboard and relax into simply good times with good food to share.
Chops Grille
For more than a decade, the chefs of Chops Grille have proudly presented quality, hand cut steaks at this hallmark Royal Caribbean restaurant. Now, they give you a fresh twist on a favorite, with a revamped menu that brings contemporary flair to traditional steakhouse offerings. Most intriguing: our exceptional prime meat. This prime beef is joined by Maine lobster, grilled branzino and other succulent dishes paired with addictive sides and irresistible desserts.
Izumi Hibachi & Sushi
From fresh sushi to delicious teppanyaki prepared tableside, Izumi Hibachi & Sushi offers a dialed-up Asian-inspired dining experience. Savor a wide variety of hot and cold appetizers, entrees, and desserts - and watch each course come together as an expert chef works right at your table.
Spa and Fitness
Spa & Fitness Center

Emerge renewed, relaxed and rejuvenated at the Vitality Spa. Professional spa products from acclaimed brands such as Elemis, bliss, La Therapie and Ionithermie bring the most advanced services to the sea. Massages, wraps, facials and acupuncture, or choose medi-spa treatments to smooth wrinkles, lift and tone. A more brilliant smile is just a tooth whitening away, while a salon completes the perfect look with hair and nail services.
Fitness Classes
Start a healthy new habit or keep your fitness routine on track. VitalitySM Fitness Center has an array of the most popular training classes including yoga, Pilates, spinning, sculpting and more. Trained instructors make it easy for everyone to have a great time and get fit. Fee applies for some classes.
Typhoon and Cyclone
Grab your bravest friend and challenge them to a test of speed. The ride of your life awaits on twin racers Typhoon and Cyclone - part of The Perfect Storm, the boldest waterslides at sea. As you speed through each white-knuckle twist and turn, long, translucent stretches offer sea views as exhilarating as the ride itself. These slides have everything it takes to keep even the most courageous daredevils' adrenaline levels way, way up.
Solarium
Check your watch: It's me time. Discover the Solarium, a relaxing indoor-outdoor retreat just for our adult guests. Perfectly positioned at the front of every Royal Caribbean ship, the crystal canopy area presents fantastic views and stays warm while you enjoy swimming pools, whirlpools and lounge area, as well as cascading lagoons on select ships.
More Choices:
Whirlpools
Table Tennis
Sports Court
Mini Golf
Rock Climbing Wall
Bars
Schooner Bar
Wrap up your night at Schooner Bar, where perfectly mixed cocktails and live entertainment come together in a warm-lit nautical-themed lounge. Cozy up in a seat under the mast, by the portholes, or right by the gleaming grand piano. The sing-along's about to being.
Playmakers Bar & Arcade
With a menu of game-day favorites and icy-cold draughts on tap, anything you order at Playmakers Sports Bar & Arcade is a winner. And while you're working on a signature Playmakers Burger or the five-scoop Touchdown Sundae, you can catch your home team live on dozens of screens or face off against your friends in the arcade.
Solarium Bar
Relaxation can be thirsty work. While you're soaking up the vibe at the adults-only Solarium, grab a refreshment from the Solarium Bar, where friendly bartenders serve wine, beer, cocktails and chilled tropical drinks perfect for sipping beneath your poolside umbrella.
English Pub
If you're looking to grab a pint, this fleetwide favorite is the spot. Pop-up musical performances keep the vibe here is as lively as London, and the pub's impressive drink menu offers a sweeping selection of beers that range from ales to lagers, with UK-themed cocktails and an inspired collection of spirits.
R Bar
Swanky, sophisticated, and suffused with retro style, R Bar serves up classic cocktails garnished with vintage vibes. Whether your drink of choice is a dry gin martini, an expertly mixed old fashioned, or the perfect gin and tonic, you'll find plenty to savor here.
Included Dining
Windjammer
The Windjammer is your go-to restaurant for tantalizing global flavors served complimentary. Like just-pressed paninis packed with all your favorite meats and cheeses. Flaky pastries fresh from the oven and omelets any way you like them. And hearty mains that run the gamut from crispy buttermilk fried chicken to Vietnamese braised Ho Chi Minh pork.
El Loco Fresh
Give your taste buds something to go wild over. El Loco Fresh serves up Mexican fare that's insanely delicious. With classic mole sauce and tangy salsa verde topping beef burritos, carnitas and more, it's a fiesta of flavor from south of the border. The craziest thing about it is just how good it is.
Room Service
Want to savor a meal in the comfort of your stateroom? Order delicious in-room dining any time - day or night. Tuck into breakfast in bed with a fresh omelet or a steaming stack of pancakes. Or enjoy an intimate date night in after a long day of adventure onboard and ashore. Room service makes it easy to treat your taste buds without having to set foot outside your door.
Cafe Promenade
When it comes to quick and easy come-and-go eats, there's no better place than Cafe Promenade. This casual, complimentary hotspot bustles 24 hours a day, so you can drop by any time - whether it's for a steaming cup of coffee and a warm glazed cinnamon bun in the morning, or late-night bites like fried artichoke, spicy marinated cheese, and savory meatballs from behind the counter after working up an appetite on the dance floor.
Sorrento's Pizza
There's nothing more satisfying than a great slice of pizza - and Royal Caribbean has spent years perfecting the recipe at Sorrento's. Whether you're into classics, like cheese and Margherita, or specialty pies, like the meat-loaded Carnivore or the pineapple, bacon and BBQ-infused Caribbean Dream, Sorrento's serves up perfection in every slice.
Main Dining
In the Main Dining Room, you can experience flavors that take you from Jamaica to Jaipur, a rotating menu of delicious dishes always offering something unexpected. A multi-level restaurant that in the morning is the perfect spot to enjoy a hearty brunch paired with refreshing mimosas, at dinnertime transforms into a world class dining experience with a menu that invites you to taste your way around the world course by course.
Lounges
The Lime and Coconut
The search for your favorite island bar is over. The Lime and Coconut turns the vacay vibes way, way up with DJs, live music and two bars serving all your favorite poolside cocktails - including the signature Lime & Coconut. And when the sun goes down, this pool bar just might be the hottest spot onboard.
Boleros
Whether you're stopping by for an after dinner drink or joining the salsa-stepping party, nighttime sizzles at Boleros. This Latin-themed club serves up Cuban mojitos, Brazilian caipirinhas, and your favorite classic cocktails to the sound of a six-piece band playing salsa, cumbia, merengue and samba.
Diamond Club
Royal Caribbean created the exclusive Diamond Club lounge to thank our valued Diamond, Diamond Plus and Pinnacle Club Crown & Anchor Society members for their continued loyalty. From concierge access to complimentary continental breakfast, and even complimentary cocktails at happy hour, our most loyal guests enjoy special perks in a space reserved just for them.
Suite Lounge
Welcome to the most elevated spot for indulging in your favorite eats and libations. Reserved exclusively for guests of Grand Suite-level accommodations and above, the Suite Lounge serves complimentary continental breakfast and evening drinks. From croissants to your favorite drink, we've got your cravings covered.
Viking Crown Lounge
A fixture on nearly every cruise ship in the Royal Caribbean fleet and a true architectural wonder, the iconic Viking Crown Lounge is the ultimate spot to soak up panoramic views while you sip your favorite cocktails. Catch the sunset through its floor-to-ceiling windows, then stick around as the space comes alive with the sounds of live entertainers, flashing strobe lights, and plenty of hip-swinging action on the dance floor.
Vintages
If you're looking to grab a pint, this fleetwide favorite is the spot. Pop-up musical performances keep the vibe here is as lively as London, and the pub's impressive drink menu offers a sweeping selection of beers that range from ales to lagers, with UK-themed cocktails and an inspired collection of spirits.
Activities
Dance Classes
Salsa, hip-hop, swing or ballroom. Learn the latest moves from instructors and bring your newfound skills to your favorite Royal Caribbean dance floor.
Latin Fiesta
First, we'll kick off a Latin fiesta with a quick crash course on basic dance moves. Then, go head-to-head - or cheek to cheek - with your fellow steppers to the sounds of a live Latin band.
All Access Tour
Go behind-the-scenes for a look at ship operations, and see how we bring the Royal Caribbean experience to life. Learn how dishes are prepared and where ingredients are stored. Explore the Engine Control Room and the crew corridor and get an exclusive tour of the Bridge.
FlowRider
The surf's always up on the 40-foot-long FlowRider surf simulator. Grab your board and get ready, 30,000 gallons of rushing awesome are headed your way. Carve like a pro - or just try to stay upright - while friends cheer you on from the stadium seating.
Dancing Under the Stars
Dress up in white and head to the Pool Deck, where a live DJ will keep the beat going strong long into the night as we dance under the stars. Bring your best moves, because you won't want to sit this party out.
Culinary Classes
Come home ready to rock the kitchen. Onboard culinary classes invite you to watch seasoned chefs create culinary masterpieces right before your eyes. Get the tips and techniques to create your own gourmet appetizers, main dishes and desserts. Culinary classes have an additional cost and vary by itinerary.
More Choices:
Shopping
Scrapbooking
Game Shows
Pool Parties
Outdoor Movie Nights
Arcade
Latin Dance Classes
Theme Nights
Casino
Folding Artistry
The Perfect Storm
Pools
70s Disco Party
Learn A Language
Wine Tasting
Ice Skating
Salsa Dancing
Sushi Making Class
Cupcake Class
Entertainment
FreedomICE.Com
An eclectic musical mashup of hits from the past and present set the backdrop for spins, flips and ice stunts - leaving you dancing in your seat along with the skating feats in FreedomICE.com.
Once Upon A Time

Take a fantasy ride through your favorite childhood stories, with details that the Brothers Grimm and other storytellers left out. Once Upon a Time is a show for everyone who never abandoned their inner child, with music as popular and timeless as the tales themselves.
Marquee

Whether you fell in love with iconic shows like La Cage Aux Folles, mesmerizing choreography by legends like Bob Fosse, or renowned composers like Andrew Lloyd Webber, there's something for everyone on 42nd Street and the Great White Way. Just look for the Marquee and get ready for some real showstoppers.
Guest Lectures

From stargazing to meditation, and a ton of topics in between, you'll hear experts from different fields give insights and offer new perspectives during our Guest Lecture series. Fee may apply.
Sip, Tour, Brunch

Catch a glimpse of the magic that happens in the kitchen on an exclusive behind-the-scenes tour of the galley with the Chef. Then take your taste buds on an exceptional brunch in a dining room, where you can indulge in spectacular eats paired with unlimited sparkling wine.
Mystery Dinner theater

Our professional cast hosts an evening of theater packed with mystery, intrigue and lots of laughs. Solve the crime in one of our specialty restaurants over an exquisite multi-course dinner paired with fine wine. An exclusive event onboard select ships; sailings vary. Limited space, reserve early.
More Choices:

Guest Entertainers
Live Orchestra
Pub Performances
Library & Card Room
Live Bands
Captain's Welcome Aboard Reception
Art Collection
Art Auctions
Night Life
Maiden Voyage: May 12006
Refurbished: Spring 2020
Guest Capacity: 3,634
Length: 1,112 ft.
Width: 183.4 ft.
Draft: 28 ft.
Tonnage: 160,000
Crew Capacity: 1,360
Cruising Speed: 21.6 knots
Registry: Bahamas
Please select the deck plan you will like to see below
Deck Fifteen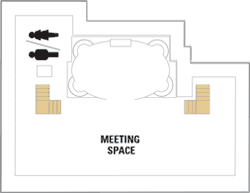 Vendor
Royal Caribbean International
General
Royal Caribbean is an award-winning global cruise line with a 45-year legacy of innovation and excellence in the cruise industry. It has redefined cruising with exciting onboard activities such as rock-climbing walls, ice-skating rinks, zip lines, bumper cars, the signature FlowRider surf simulator and exclusive skydiving thrills of RipCord by iFLY. Royal Caribbean was the first to bring the best of Broadway to the high seas, staging full-length productions of hit musicals like MAMMA MIA!, Cats and We Will Rock You. The world-class entertainment program includes dazzling only-on-Royal stage, ice, aerial, dive and multimedia shows, plus dance clubs, bars and lounges that never charge a cover. The newest ships in the fleet - Oasis Class and Quantum Class - are equipped with advanced technology, with the fastest Internet at sea, and the widest variety of accommodations, from single rooms with a balcony, to family-connected staterooms and luxurious two-story lofts. Royal Caribbean International is redefining family and adventure travel with its newest ship, Symphony of the Seas. Bringing to life every family's vacation dreams, the ship is a playground of thrill and chill experiences carefully designed with guests of all ages in mind. Families can go head to head in a glow-in-the-dark laser tag adventure, take the plunge down the tallest slide at sea, or soak up some sun after getting drenched on the ship's epic waterslides and surf simulators, discovering exactly how Symphony of the Seas is the new sound of adventure for the whole family. The Royal Amplified program is set to reveal multimillion-dollar upgrades, including Sky Pad, Battle for Planet Z, a glow-in-the-dark laser tag experience; The Perfect Storm trio of waterslides and a new Escape Room: The Observatorium challenge, where competitors can solve a series of high-tech riddles to unravel a mystery. Not to mention the addition of new dining venues, from Fish and Ships - a seaside seafood spot with freshly battered fish and chips and other guest favorites - to Playmakers Sports Bar & Arcade, Izumi Hibachi and Sushi and Sugar Beach. Scheduled for completion in fall 2019, the new Perfect Day at CocoCay will offer endless discoveries and shareable moments among seven distinctive island experiences to deliver the ultimate family destination in the Caribbean with the perfect combination of thrills and chills for everyone. Combined with personalized, attentive service, Royal Caribbean is committed to delivering the best vacation experience to its guests. And for the last 12 years, it has been honored as both the best cruise line in the Caribbean and best cruise line overall by the readers of Travel Weekly.